Image of the Week: "Legs, Drugs, and Alcohol 15" From the Legs, Drugs, and Alcohol Series 🍾
May 18, 2018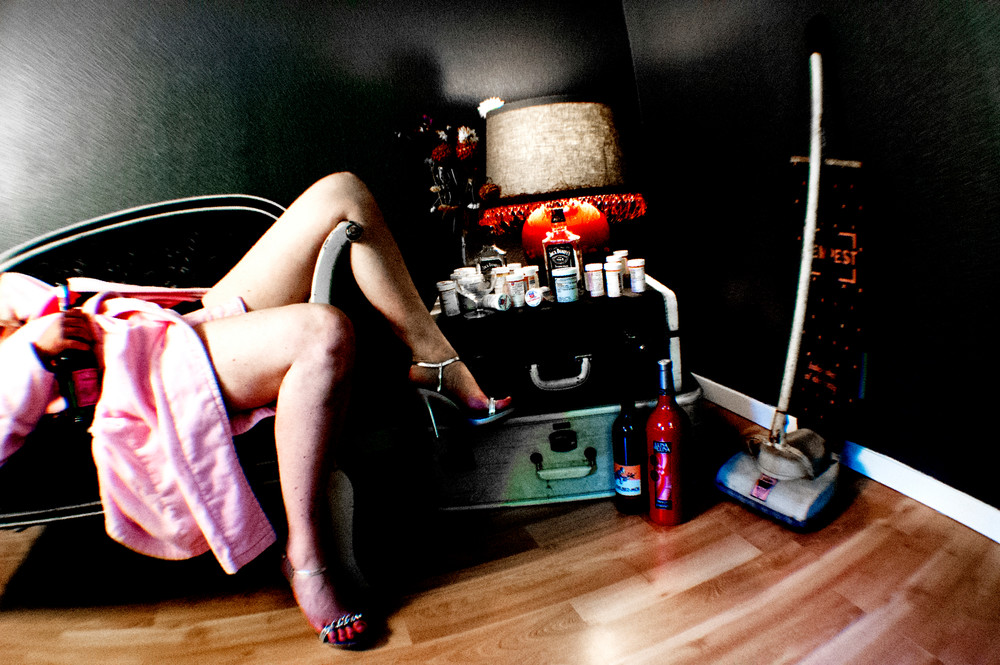 This weeks image, "Legs, Drugs, and Alcohol 15", from the Legs, Drugs, and Alcohol Series, perfectly articulates my emotional state after being inundated with volcano alerts, advisories, and warnings here on the Big Island of Hawaii. The alerts change as quickly as the air quality; rapidly. Despite these alerts, and as much as I want to escape it all, I know I have to keep focused on living everyday, and not let the fear and anxiety immobilize me. After all, the dishes still need to be washed, and art still needs to be created.
These past two weeks, it has been a struggle in forcing myself to turn off the news and focus on what has always quelled my fear and anxiety better than any drug – creating photographs. And, so, I have pushed myself to begin my journey back into the studio, deciding to start by looking over the archives from my latest series: Legs, Drugs, and Alcohol. I discovered a dozen or more photographs that were not initially included in the series – photographs that I feel would complete the story. While I was unable to dive into new works, I found the process of reviewing archives therapeutic, like listening to your favorite music album, giving me the escape I needed during an emotionally draining couple of weeks.
Keep an eye or two out for the revealing of more photographs from the Legs, Drugs, and Alcohol archives to be included in upcoming posts. I look forward to sharing them with my fans.
In other announcements, Sunday, May 20th, I will have a booth set up at the monthly Sunday Kokua Kailua Village Stroll, in downtown Kona from 1pm-6pm. Also, I will be announcing the winner of my print giveaway on May 22nd. Last chance to enter is May 20th. Click here to sign up for my email list. You will automatically be entered to win a free print, and you will receive a coupon for 20% off your first order.
Click Here to Buy Prints of this Image